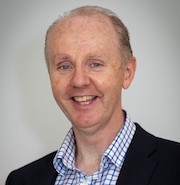 Alistair is a founding partner at Emenex Ltd, an alliance partner of The Highlands Group. With over 25 years of change management experience, Alistair has a breadth of both industry and geography experience.
Educated at Edinburgh University (BSc Hons in Chemistry) and the BYU Marriott Business School (MBA), Alistair worked with ICI, Air Products and Chemicals and Novell before co-founding Emenex Ltd in 2001.
He has worked with a wide range of clients including: Philips Healthcare, Intel, Molson Coors, Extreme Networks, Ciena, Capita, ADCO, Dubai Properties, and MAF Ventures. Alistair has supported these organizations in the successful achievement of strategic change initiatives through delivering customized change management solutions.
Alistair is a co-author of the book "The Employee Engagement Mindset" (McGraw-Hill).
He is a single-figure handicap golfer and enjoys a wide range of activities including: swimming, hill-walking, cycling and kayaking. He is a Football Association Youth Coach and lives in South Oxfordshire, UK with his wife and five boys.