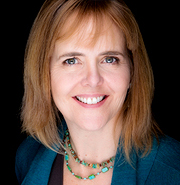 Barbara Edwards has over 20 years experience in the fields of leadership development, executive team effectiveness and conflict transformation.  Throughout her career, Barbara has had the opportunity to work with many world-class organizations such as Franklin Covey Company, Accenture, and Charter Oak Consulting. At Charter Oak Consulting, Barbara has consulted with firms such as McKinsey & Co., TRW and General Dynamics to provide leadership coaching and training to their top executives. In 1993, she joined Stephen Covey as one of his senior consultants in the field of leadership.  She facilitated and provided keynotes on the Seven habits of Highly Effective People, Principle Centered Leadership, and the 4 Roles of a Leadership. Her clients have included upper-level executives in public agencies, non-profits and corporations.
Barbara holds a BA in Sociology and an MA in Transpersonal Counseling Psychology, as well as a certificate in Gestalt Process. She spent two years collaborating with M. Scott Peck (from 'The Road Less Travelled') in his community development process. She is a trained CTI coach and is also educated in the Harvard Negotiation Project's approach to conflict resolution, Danial Goldman's emotional intelligence, and Matrix Leadership.  She has developed a unique executive coaching process she calls "the word on the street," designed to give real-time feedback to executives on how they are perceived so they can improve their performance.
Barbara's style is fresh, warm, and invites exploration with her focused curiosity.  She is a powerful and encouraging.